February 25, 2019
How Sichuan Became NYC's Dominant Chinese Cuisine
Several times in the last two years, I've found myself sitting in a radically new type of Sichuan restaurant. The first thing that strikes you about these places is the decor. Instead of the white tablecloths and red color scheme that once dominated, they sport designer tables and chairs, subdued lighting, and decor that suggests either thatched villages complete with huts and waterfalls or underground discos with concrete floors and sometimes a DJ.
The food is light years different, too. The floodgates have been opened where Sichuan peppercorns are concerned; where once you were lucky to get a little tingle on your tongue, Sichuan food these days mounts a Novocaine-like assault on your mouth, rendering a gulp of cold water useless. The general onslaught of green chiles, hot red oil, and dried cayenne peppers has increased as well. Clearly these newcomers are not out to coddle diners, spice-wise.
In fact, New York's Sichuan scene has never been more robust. Where Cantonese fare once reigned supreme, the louder flavors of the Sichuan province have become one of the most popular genres of Chinese food in New York. According to data from Yelp, New York had 46 restaurants categorized as Sichuan in 2012; in 2018, the number more than doubled, to 98.
These newcomers are not only serving food more fiery and flavor-packed, they're ransacking recipe collections for dishes not previously seen here, and inventing new ones as well. Some are served in novel presentations involving props and tableside service, ramping up the excitement level. Plus, the new crop of Sichuan restaurants is competing for customers who are more discerning than ever before.
But what is Sichuan food? Situated in China's southwest, the cuisine of the Sichuan province has at its most basic element the Sichuan peppercorn native to the region, to which have been added several permutations of chiles, producing a tingling symphony of hotness. Other ingredients include ginger, garlic, beans, peanuts, pork, chicken, freshwater fish, and the province's bounty of vegetables.
New York's embrace of the cuisine has meant new restaurants across the price spectrum. Some of the city's more ambitious Sichuan restaurants have upped the price expectations to $50 or so per person at a communal table, where a group is necessary to sample enough dishes. But fast-casual restaurants are appearing, too. In those places, a less-expensive take on dishes like wontons in hot oil, mapo tofu, and dan dan noodles are available at prices that hover around $10. One can dine alone and not be disappointed.
Some 45 years of ups and downs in New York have set the stage for a brilliant new era of Sichuan cuisine — one where getting a fast, spicy snack from a counter-service cafe is as easy as sitting down in a modern restaurant and enjoying a full-course meal, packed with heat.
For many years, the mouth-numbing cuisine of Sichuan didn't quite penetrate New York's dining scene. Even restaurants that called themselves Sichuan pale in comparison to what's available today; my own experiences nearly 40 years ago were at restaurants mostly outside of Chinatown that tendered too-sweet food with a bit of dried chile heat, but no Sichuan peppercorns. This was at least partly because they were declared illegal in the U.S. in the '60s due to the erroneous belief that they carried disease.
According to William Clifford's The Insiders' Guide to Chinese Restaurants in New York (1970), the first restaurant in the city to even "claim full allegiance to Szechuan" was Szechuan Taste at 23 Chatham Square. Sure, there had been previous restaurants that boasted a menu with a few Sichuan dishes, such as double-cooked pork or eggplant with garlic sauce. But none were quite like this place, which listed tea-smoked duck and braised whole carp with chiles among its chef's specials. The chef left for a new restaurant on Broadway at 95th Street, and not long after, the Upper West Side became the city's first hotbed of the cuisine.
Still, even with increased visibility of the term Sichuan, the city's propensity for the milder food of Cantonese cuisine seemed to prevail. Of the flagship Empire Szechuan Gourmet — which once had eight locations in the city, including two on the UWS — then-Times critic Mimi Sheraton complained that the food wasn't spicy enough and disdainfully pointed out dishes that were from other provinces, according to reviews in her book.
Indeed, of the six Sichuan restaurants she appraises in her 1983 compilation of Times reviews, most receive poor grades based on badly prepared food, little heat, and too few actual Sichuan dishes. Only Hwa Yuan Szechwan Inn on East Broadway received two stars. The legendary chef of the establishment, one of the largest restaurants in the city, with a capacity of 270, was Taiwan-born Yun Fa "Shorty" Tang, who is sometimes credited with inventing sesame noodles. (The restaurant has since been revived near its original location by his son.)
Wu Liang Ye and Grand Sichuan both opened in the late '90s, growing into mini-chains.
Sheraton told me that Wu Liang Ye is where she first encountered Sichuan peppercorns.
Then, a mini-campus of Sichuan restaurants with a far more assertive use of the peppercorns soon appeared on the fringes of Flushing's burgeoning Chinatown on a ragged western stretch of Roosevelt Avenue. Spicy & Tasty was founded early in the new millennium and became notorious among Chinese restaurant enthusiasts at websites like Chowhound for its profuse use of peppercorns and lavish display of cold dishes in the front window. It closed not long ago.
In 2004, on the same stretch of Roosevelt, Cheng Ying Wu opened Little Pepper with a similar peppercorn-intensive agenda, plus novel dishes like peppercorn-dusted french fries. When I reviewed it for the Village Voice in 2012, it was the most spice-intensive Sichuan food I'd ever seen in the city. The occasion of the review was Little Pepper's move to College Point, where it still thrives.
Two landmark events helped pushed along the proliferation of Sichuan cuisine in New York. In 2005, the peppercorn ban was lifted, though imported peppercorns still had to be heat treated and were thus less potent than they might have been. (This restriction was finally lifted in 2018.)
That same year, Golden Shopping Mall food court opened in Flushing, resembling a funky Chinese bazaar. It's famously where Xi'an Famous Foods got its start, but also the home of a Sichuan stall called Cheng Du Tian Fu (meaning something like Chengdu Heavenly Snacks). It concentrated on what might be termed more casual Sichuan eats, consisting of noodles and organ meats slicked with buckets of chile oil. The food was indeed heavenly, and it prepared us for the spicy and offal-intensive Sichuan soon to arrive.
Fast-forward to now, and Sichuan restaurants are booming. From then to the present, there came to be many new Sichuan spots in Elmhurst; Little Neck, Queens; Midtown Manhattan; in the vicinity of Columbia and NYU; and many, many more in Sunset Park. Only Manhattan's Chinatown lagged. But the largest concentration has been in Flushing, where the number of restaurants and stalls featuring the cuisine is edging up toward 30, by my count.
Illustrating this phenomenon is a single modern development called One Fulton Square at the corner of Prince and Roosevelt — the block that once hosted Little Pepper and Spicy & Tasty — where there are now three gleaming Sichuan restaurants. Guan Fu, Szechuan Mountain House, and Szechwan Absolute present quite a contrast to their grittier predecessors, each with its own slightly different take on the cuisine.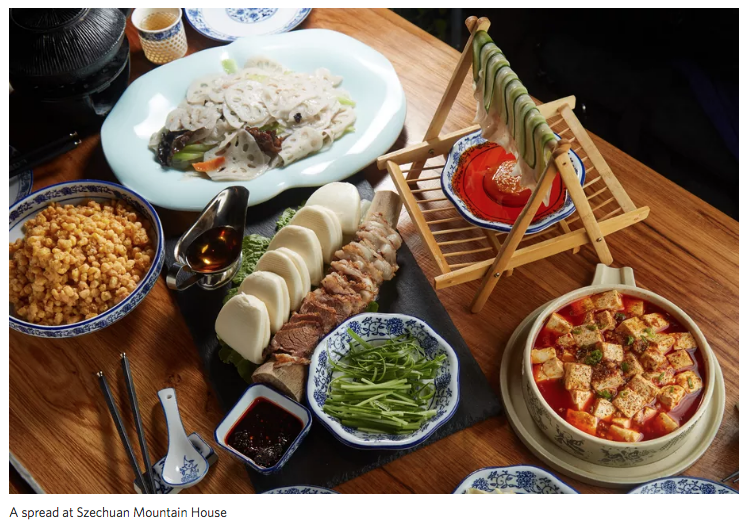 These three establishments constitute half of the new restaurants in the development, and represent upscale, almost glitzy, takes on Sichuan cooking. Szechuan Mountain House affects a rural demeanor, featuring curtained booths that make it an ideal date spot. Dishes are presented with a panache that involves elaborate serving schemes and tableside service, such as with the rum-marinated beef rib bao. The meat arrives still partly attached to the bone, to be removed and dramatically warmed over a flaming boat of oil by the diner.
Pete Wells at the Times bestowed three stars on Guan Fu, a restaurant with an antique atmosphere and dishes like a sleek ma po tofu that's not as hot as many but still highly flavored. And Szechwan Absolute offers a colorful modernistic elegance, with chandeliers, orange lattice decorations on gray walls, and a cherry blossom mural. The food is plainly plated at a few dollars less than at its Sichuan cotenants, and the menu is heavy with offal, bullfrog, and rarely seen vegetables like celtuce.
Presentation at these new restaurants is far more intricate than Sichuan restaurants of New York's past. A short walk away from One Fulton is DaXi, a plush night-clubby space in the New World Mall, where a dish of humongous pork ribs arrives in a yellow birdcage. Szechuan Mountain House serves razor-thin pork belly suspended from what l
ooks like a children's swing set, a presentation now seen at Chinese restaurants all over town, proving these innovations are positively contagious.
And dishes are more diverse than ever, going far beyond the now well-known options like double-cooked pork and ma po tofu. Flushing's Alley 41, a place aimed at younger diners with a cryptic entrance on a side street, offers, in addition to predictable Sichuan fare, options like spicy ground pork poured over mashed potatoes, and whole okras bristling from a bowl of peanut butter.
Williamsburg's Birds of a Feather employs Sichuan flavors with newfangled dishes like a fried eggplant accordion, where braised eggplant gets cut into an accordion shape, fried, and then doused with sweet-and-sour garlic sauce. Restaurateurs Xian Zhang and Yiming Wang, who also own Café China in Midtown, have said it's a way to "push the chefs to do something they haven't done before, to be a little more creative."
The crowds at these places are also a decade or two younger than at older Sichuan restaurants and more Asian. The same thing has happened in Sunset Park, too. Eventually the phenomenon reached the East Village, where a second Szechuan Mountain House opened right on St. Marks, years after Hot Kitchen introduced the cuisine in modern form to the neighborhood in 2011. Need I tell you the Mountain House was an instant hit, with waits of two hours or more?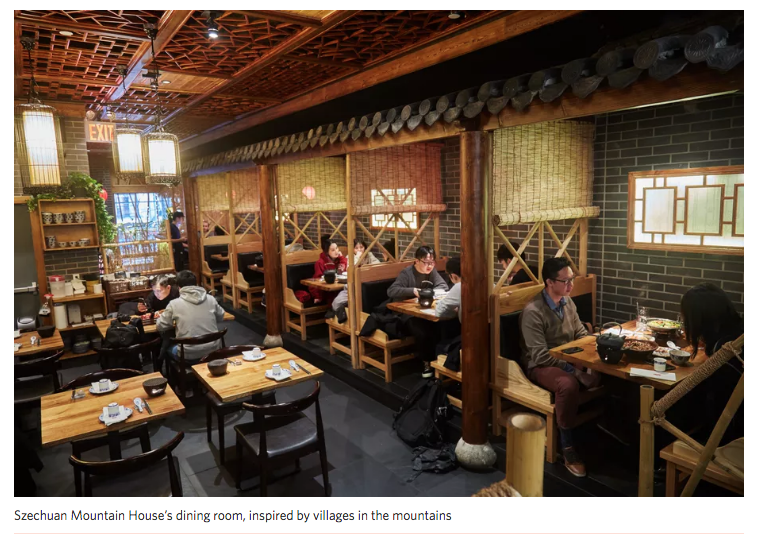 At the same time, our old-guard Midtown establishments like Szechuan Gourmet, Café China, and Savour Sichuan have thrived, especially with the lunch crowd from nearby office buildings. In Flushing food courts, innumerable stalls popped up, peddling Sichuan fare at budget prices configured as noodle soups or faddish dry hot pots. Vegetarians and vegans now have a dedicated Sichuan restaurant in Spicy Moon, a restaurant that opened just this year in the East Village. Dan dan noodles are made with a faux meat, and wontons in chile oil com filled with vegetables instead of pork.
But perhaps nothing points to the mass-market appeal of a food more than the fast-casualization of a cuisine. Indeed, New York City recently got a crop of fast-casual joints, like Greenwich Village's Peppercorn Kitchen and Chelsea's Bang Chengdu Street Kitchen. The former concentrates on mala tang, which are spicy mini hot pots, while the latter, configured as a hawker food court with carts, serves noodles, dumplings, pastries, and flatbread sandwiches called guokui, from the Sichuan street-food canon.
Kirk Liu, owner of Peppercorn Kitchen, has said that the counter-service business — with a sleek website and a neon sign, much like its counterparts in the fast-casual realm — is her way of introducing more Americans to the ways of contemporary Chinese eating. It offers customized, individual portions, making it a solution for people who want to eat Sichuan food but don't want to go with a group. "We want to create this image of what modern China looks like and we want to  give the message that Chinese food can be modern and chic, while the flavor is still authentic," she told an NYU paper last year.
Even Williamsburg and Bushwick, previously relative dead zones for Chinese food, have seen new Sichuan restaurants with Birds of a Feather and General Deb's. The latter illustrates an interesting new phenomenon: Sichuan restaurants run by people of Western ancestry. In fact, peppercorns and other Sichuan elements can even liberally be seen outside of restaurants that declare Sichuan allegiance. New Prospect Heights bistro Oxalis deploys them on a duck flatbread, and Matt Hyland's hip East Village pizza restaurant Violet has a winter squash pie with the stuff.
Perhaps it comes as no surprise. The charms of Sichuan cuisine are multiple — from mellow tea-smoked duck, to whole braised fish smothered in fiery fermented bean sauce, to cold diced rabbit with chiles and peanuts, to hot pots, noodles, soups, and stir fries. Few things make one gladder to live in New York.